Be it the greasy stovetop in your kitchen or the moldy shower curtain, every household has some hard-to-clean spots. However, with a few helpful techniques up your sleeve, you can combat the pains of untidy spots quite easily and ensure your home remains top-notch. 
Here's a list of cleaning tricks from the experts at EnviroClean Maine to help you keep your home in perfect shape. 
Remove grease with a microfiber cloth 
If you're welcomed by a greasy stovetop and oil surrounding walls every time you step into the kitchen to cook yourself a warm meal, this is a good indication that you haven't yet mastered the art of cleaning sticky spots. But this one's nothing to worry about. All you need is a hot soapy solution and a microfiber cloth. 
The microfiber cloth is the key here. It absorbs all the moisture from the greasy surfaces and allows you to enjoy a spot-free cooking experience. Make sure you rinse the cloth after each wipe to release the collected oil. 
Use natural detergents to clean the dishwasher 
A foul-smelling dishwasher is the result of left-over food particles. To keep your appliance stench-free, scrape off food, and rinse your cutlery before placing it in the dishwasher. And if the smell continues to reside in it, your best bet is to use organic detergents like lemon and vinegar. 
Cut a small bowl of lemons into quarters and place them on the top rack, covered with water. You can substitute this with a bowl of white vinegar. Now run the wash cycle to let these ingredients do their magic.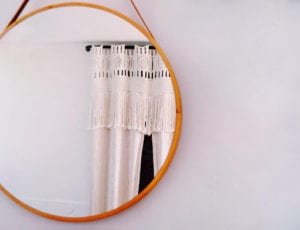 Wash your moldy shower curtain 
When your shower curtain starts to smell, your first thought may be to toss it out and get a new one. However, sustainability is the key to saving the environment and cleaning your dirty shower isn't that hard of a task. 
Just chuck it in the washing machine along with a cup of bleach and run the cycle. Most times this technique would work wonders. However, if the mildew persists, that's your cue to finally throw it out. 
Get the experts' help to clean a stained carpet 
Everyone knows that dirty rugs are vibe-killers. Imagine inviting your boss over for dinner only to greet them with a foul-smelling stained carpet. 
If you don't want the embarrassment, reach out to us at EnviroClean Maine.  We use cutting-edge technology to clean tough stains from your carpet. We offer our carpet cleaning and water extraction services in Yarmouth, Freeport, and Scarborough, ME.