The season for roasting turkey, great food, and football is here! Thanksgiving 2020 may be different from anything you've seen before. Supermarkets won't be crowded with people picking up last-minute items, friends and families won't be gathering in big numbers and you will probably eat your food with the handful of people you'd been spending the last couple of months with. 
However, this doesn't mean you should shoo away the festive feelings of the holidays. Planning for Thanksgiving could lift your mood and reduce stress amid the current health crisis. Here's the ultimate cleaning checklist for this year's Thanksgiving dinner: 
Clean and organize your pantry 
While you should regularly disinfect your pantry, Thanksgiving calls for a deeper cleaning session. Start with decluttering the space. Check the expiration date on all ingredients, including cereals, spices, baking items, and other things in stock, to get rid of the expired ones. 
Once you've thrown out all the past items, get a clean washcloth and fill a bucket with warm soapy water. Remove all the containers, dry goods, vinegar, and oils from the shelves and wipe down every inch of the area with the soapy solution. 
While putting back the items on the racks, give a little thought to the organization of containers. Label and date them if you want and make sure they're placed neatly together.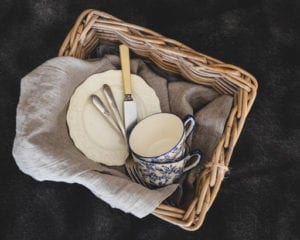 Wash the stored holiday China, Silverware, and Stemware 
Like countless other American families, you may also have the tradition of taking out your China, Silverware, and Stemware for special occasions like Thanksgiving. The exclusive cutlery can add a touch of elegance to your dinner table and make your guests feel special. 
After removing the cutlery from storage boxes, make sure you wash them to get rid of any dust particles that may have accumulated on them. Then place them in a safe space and cover them with a clean cloth. 
Get the kitchen and dining room spic-and-span 
Thanksgiving is the perfect occasion to deep clean your kitchen and dining room. Iron your table linens, fold napkins and keep them at an out-of-reach spot to ensure their safety. Clean the light fixture, wash the windows, and wipe down kitchen cabinets and electronic items like your microwave and dishwasher. 
If you want an extra set of hands to get your carpet and upholstery cleaned, reach out to us. At EnviroClean Maine, we provide residential disinfecting services in South Portland to keep your family safe during the pandemic. 
There isn't a better time to get your space disinfected than before the holidays!